"Real-world Solutions to Deliver Interactive Live Workflows with OTT Platforms" is the name of the panel to be celebrated on Friday 13th October at 9:50 am.

Epic Labs, proud member of the DASH IF, will show how to deliver interactive workflows on OTT platforms in order to explore new revenue models and experiences. Attendees will learn how to implement different technologies like WebRTC, cloud architectures and other techniques, solving common challenges and enabling a true end-to-end solution with low-latency video and full interactivity capabilities at a massive scale.
The panel will be held by Alfonso Peletier, Epic Labs Founder & CEO; Jesús Oliva, Epic Labs Founder & Media Engineering Lead; and Ilker Ürgenc, Media Architect at Akamai.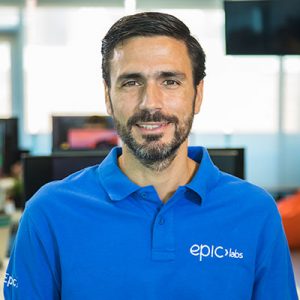 Alfonso Peletier, Epic Labs Founder & CEO: "We are proud to participate in the Akamai Edge conference, we will be sharing some of the interesting opportunities we are seeing for Media Companies and Broadcasters to generate engaging fresh experiences for users and audiences that want to interact with celebrities, journalists and content producers. We are providing real-time video technologies seamlessly integrated with Akamai technologies for high quality massive broadcast. This will be the main topic of the panel where we will be showcasing a demo as well."
Akamai Edge 2017 will take place at Aria Resort in Las Vegas from 11 to 13 October. This is the tenth edition which has as its theme "Connect to tomorrow". For nearly a week, different partners, customers and Akamai members will discuss different market trends and the most challenging scenarios in the different markets in which the company has a presence.