Antonio Tablero, Head of Broadcast Engineering & Technology, FNG Europe and Africa y Epic Labs ofrecen un workshop sobre Inteligencia Artificial para Broadcast en BIT Experience.
Se celebra el miércoles 4 de octubre a las 17:00 en la sala S15+S16 del Auditorio Sur de IFEMA  bajo el nombre: Inteligencia artificial real para broadcast. Automatización de metadatos, auto-tagging y moderación de contenidos con Machine Learning.
El impacto de la Inteligencia Artificial en nuestra sociedad se prevé que sea tan importante como el descubrimiento de la electricidad, una ola que sin duda cubrirá el sector de la producción y difusión de contenidos en los próximos años. A pesar de este escenario tan contundente, poca información real hay sobre la aplicación y los beneficios que aporta esta tecnología a la industria Broadcast y Media, y sobre todo, cómo puede utilizarse hoy en día, sin necesidad de esperar al futuro.
En cuanto al contenido, se expondrá un caso de uso actual sobre moderación automática de contenidos y auto-tagging. Por otra parte, se explicarán cuáles son las bases para abordar un proyecto de Inteligencia Artificial aplicado a entornos de canales de televisión ya sean tradicionales o Web TV, plataformas de contenidos, así como el amplio ecosistema de empresas de servicios de producción y difusión.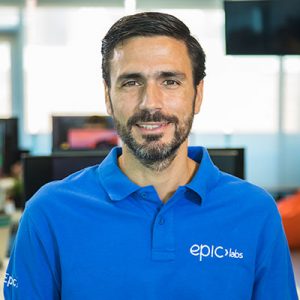 Alfonso Peletier, Founder & CEO de Epic Labs: "Estamos ayudando a empresas del sector Media en sus procesos de innovación y transformación digital; tecnologías de Deep Learning e Inteligencia Artificial nos habilitan nuevos e interesantes casos de uso para Media y Broadcast. Es un orgullo poder aportar las investigaciones y desarrollo del Equipo de Epic Labs junto a un profesional tan reputado como Antonio Tablero en el marco de BIT Experience".
La sesión incluye una demostración y una ronda de Q&A con expertos de Epic Labs que resolverán las dudas de los asistentes.